The PREDATOR is an advanced hang glider designed to meet the exacting requirements of the advanced pilot. The Predator is strong, light weight, has excellent handling, performance and great landing characteristics.
The proven carbon fiber airframe enables the Predator to be both light and strong, and allows a dialed-in flex/rigidity distribution to give super strength, excellent wing shape definition and great handling.  To improve performance the Predator is designed with reduced twist and a myriad of unique design features that enhance the performance characteristics yet still maintain pitch stability and sweet handling. The Predator's semi-symmetrical airfoil in the tip area produces less drag at low angles of attack which results in a higher usable top speed and improved high speed glide ratio. To further improve wing efficiency, particularly in the tip area, the Predator incorporates boundary layer energizers (vortex generators) that keep the airflow attached through higher angles of attack.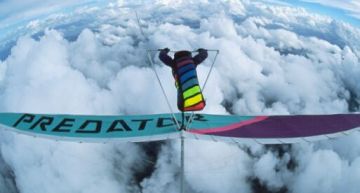 The Predator sail is made by the most experienced and meticulous sailmaking team in the hang gliding industry who use materials and techniques geared toward a higher quality and longer lasting sail.  The Predator has one of the highest aspect ratios (8:1) of any glider for better glide potential.
The Predator is a unique wing. Even with its exceptional performance, you will enjoy the feel of confidence in all flying conditions in your Predator.
We at UP understand that your choice of glider is important to you.  The Predator is a glider designed by a team that knows what it means to fly an exceptional glider.  From set-up to landability, your glider must be the best.  You will find that your Predator will meet or exceed your requirements, from subtle details such as comfortable static balance to performance characteristics such as the fastest documented acceleration of any glider in the world.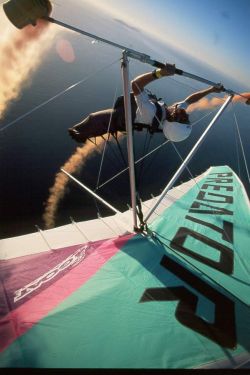 SPECIFICATIONS
 
PREDATOR 142
PREDATOR 158
Span
34'
35' 4"
Area
142.5 ft2
158 ft2
Aspect ratio
8.0 : 1
8.0 : 1
Pilot hook-in weight
140 - 220 lbs
220 - 300 lbs.
Nose Angle
132°
132°
Airframe
Carbon Fiber/6061
Carbon Fiber/6061
Pilot skill
Advanced
Advanced
Weight
64 lbs.
67 lbs.
List Price (US $)
$5900
$5995
View the sail diagram
Standard Features
Vortex generators on aft leading edge
Automatic kingpost system for hassle-free quick set-up - integral with rear haulback
Internal lacing system for inflight airfoil adjustment - integral with VG
Semi-symmetrical 100% double surface tip area
Low drag Sensor downtubes and king-post
No-kink side wire attachment - machined corner fitting to allow side wire rotation during fold down
Plastic teardrop tip fairings
Profiltm, or X-ply leading edge cloth with Mylar inserts for improved sail shape and durability
Heavy-duty polyester cover bag with polyurethane lining - padded in vortex generator area
Options
Speed ribs in tip area (recommended for extensive aerobatic or high speed flight)
Various mylar types for the leading edge
Trailing edge string (anti-tear)
Lever style rib tips